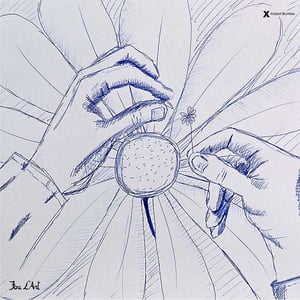 €

500.00
Iedereen kent wel het gebruik waarbij men van een madeliefje de blaadjes plukt terwijl men bijvoorbeeld zegt: "Hij houdt van mij. Hij houdt niet van mij. …" Bij deze tekening, gemaakt met een blauwe bic, dacht ik evenwel: "Ik hou niet van hem. Ik hou van hem." Het liefdesleven van de mens is nu eenmaal dubbel. Men kan liefhebben (of juist niet) in de passionele zin, maar ook (of juist niet) in de tedere zin. Beiden kunnen samengaan, of, alweer, juist niet. Voor mij geldt echter dat de passie ook de tederheid met zich meebrengt.
(… Pas du tout). Chacun connaît la coutume qui veut que l'on effeuille les pétales d'une marguerite en disant par exemple : « Il m'aime. Il ne m'aime pas. … » En faisant ce dessin, tracé au Bic bleu, je pensais cependant : « Je ne l'aime pas. Je l'aime. » La vie amoureuse de l'homme a quelque chose de dual. On peut aimer (ou pas du tout) au sens passionnel, mais aussi (ou pas du tout) au sens de la tendresse. Les deux peuvent se combiner, ou, encore une fois, précisément pas. En ce qui me concerne, cependant, la passion entraîne également la tendresse.
"I love him not". Everyone is familiar with the daisy of which the leaves are plucked whilst we say: "He loves me, he loves me not" In this drawing, made with a blue ballpoint pen, I thought, however: "I love him not, I love him". Human beings' love life happens to be twofold. We can love (or not) in a passionate way, but also (or not) in an affectionate way.
Both can coincide, or not. To me, however, passion goes with affection.