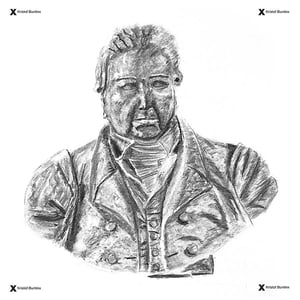 €

500.00
Dit is het enige motief dat ik eerder maakte dan in de periode die ik doorbracht in het ziekenhuis. Met deze tekening, gemaakt als student in de kunsthumaniora, wou ik laten zien wat ik kan met houtskool. Ik weet niet wie de buste voorstelt, maar afgaande op de kledij en de pruik vermoed ik dat het gaat om een persoon uit de 17de of vroeg 18de eeuw. Het is ook duidelijk dat hij behoorde tot de welgestelde klasse. Misschien een burgemeester, of een telg van een adellijk geslacht. Ik zou dat ook wel willen zijn omdat ik dergelijke figuren associeer met levensgemak en comfort. Hier heb ik dus de foulard gebruikt als canvas.
C'est le seul motif réalisé avant ma période à l'hôpital. Par ce dessin, tracé alors que j'étais étudiant en humanités artistiques, je voulais montrais ce que je suis capable de faire au fusain. J'ignore qui ce buste représente, mais à en déduire de ses vêtements et de la perruque, je suppose qu'il s'agit d'une personne du XVIIe ou du début du XVIIIe siècle. On voit aussi clairement qu'il faisait partie de la classe aisée. Peut-être un bourgmestre, ou un descendant d'une famille noble. Je me verrais bien aussi dans cette situation, parce que j'associe de telles figures aux agréments de la vie et au confort. J'ai donc utilisé ici le foulard comme canevas.
"Bust". This is the only design I made before my stay in the hospital. With this drawing, made as a student at the artistic grammar school, I wanted to show what I can do with charcoal. I don't know who this bust represents, but going by the clothes and wig I suspect that it involves someone from the 17th or early 18th century. It is also obvious that he belonged to the well-to-do class. Perhaps a mayor or a scion of a noble family. I would also like to be like him since I associate such figures with easy living and comfort. Therefore I used the scarf as a canvas.